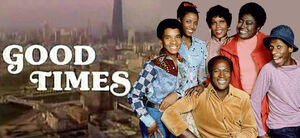 Adrian Ricard (born on August 7, 1924) appeared on Good Times as the Matron/Female Bailiff at the police station where Florida and Willona were booked for leading a protest against Borgan's Supermarket in the Season 3 episode "Florida's Protest". A native of New York City, Adrian is perhaps best known for appearances in the film I, Robot (2004), which starred Will Smith, the Steve Martin sci-fi/comedy film The Man with Two Brains (1983) and the comedy/crime film Dead Men Don't Wear Plaid (1982). Adrian, in addition to hear Good Times appearance, has also made numerous other guest TV show appearances which include Columbo, Harry-O, The Rockford Files, Kojak, The Paper Chase, The Facts of Life, and more recently, Sister, Sister, NYPD Blue, Everybody Loves Raymond, and Judging Amy.
External links
Edit
Ad blocker interference detected!
Wikia is a free-to-use site that makes money from advertising. We have a modified experience for viewers using ad blockers

Wikia is not accessible if you've made further modifications. Remove the custom ad blocker rule(s) and the page will load as expected.