Veteran actor Alan Manson appeared as Fred, a corrupt Chicago Police Detective in a guest appearance on "Good Times".
Personal Information
Gender:
Male
Born:
June 7, 1918
Birthplace:
Brooklyn, New York, U.S.
Died
March 5, 2002
(aged 83)
Deathplace:
Queens, New York, U.S.
Career/Family Information
Occupation/
Career:
Actor
Years active:
1943-2002, his death
Character information
Appeared on:
Guest appearance on Good Times
Character played:
as Fred in the episode titled "J.J.'s New Career: Part 2" in Season 4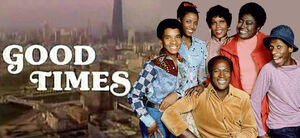 Alan Manson (born June 7, 1918-died March 5, 2002) appeared as Fred, a corrupt Chicago Police detective in the episode of Good Times titled "J.J.'s New Career: Part 2" in Season 4. A revered veteran stage, TV, and film actor, Alan's career, which began in the U.S. Army during WWII, spanned seven decades.
Biography
Edit
Life and career
Edit
Born and raised in Brooklyn, NY, Alan was one of a group of World War II soldiers selected to appear in Irving Berlin's 1942 musical This Is the Army (1943). He appeared in the Broadway production as well as in the film. After the war, he continued to perform on Broadway. In 1955, he was called before the House Un-American Activities committee which were conducted by then Sen. Joe McCarthy which investigated communists in New York theater. He refused to answer any questions but was later cleared. He found little work as an actor for a few years afterwards.
Alan appeared in many Broadway shows including This Is the Army, Paddy Chayefsky's The Tenth Man, Call Me Mister and Rogers & Hammerstein's Allegro and Angels Kiss Me. He also appeared as Florenz Ziegfeld Jr., opposite Barbra Streisand's Fanny Brice, in the Broadway production of Funny Girl. Going on to appear in guest spots on many television shows beginning in the 1960s, in addition to his Law and Order appearances, Alan would appear on such popular series such as Car 54, Where Are You?, The Patty Duke Show, Cannon, M*A*S*H, The Bob Newhart Show, The Mary Tyler Moore Show, The Six Million Dollar Man, Three's Company, Charlie's Angels,The Jeffersons, Kojak, and Vega$.
Alan died in Queens, NY in 2002 of an undisclosed illness.
External links
Edit
Ad blocker interference detected!
Wikia is a free-to-use site that makes money from advertising. We have a modified experience for viewers using ad blockers

Wikia is not accessible if you've made further modifications. Remove the custom ad blocker rule(s) and the page will load as expected.