Andre Edwards as Ernie in the Season 4 episode "J.J.'s New Career: Part 2".
Personal Information
Gender:
Male
Career/Family Information
Occupation/
Career:
Actor
Years active:
1973-1979
Character information
Appeared on:
Good Times
Character played:
Ernie in "J.J.'s New Career: Part 1" and "J.J.'s New Career: Part 2" in Season 4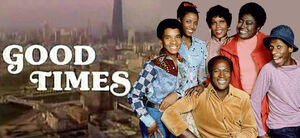 Andre Edwards appeared as Ernie, one of J.J.'s two former high school classmates, who happen to be involved in a gambling racket, whom he moves in with temporarily until a police drug bust goes down in the Season 4 episodes of Good Times titled J.J.'s New Career: Part 1 "J.J.'s New Career: Part 2". In the 1970s, Andre also appeared in the 1973 documentary film Wattstax as well as a pilot episode for a short-lived crime/drama series The Blue Knight, and also in an episode of ABC-TV's What's Happening!! sitcom series.
External links
Edit
Ad blocker interference detected!
Wikia is a free-to-use site that makes money from advertising. We have a modified experience for viewers using ad blockers

Wikia is not accessible if you've made further modifications. Remove the custom ad blocker rule(s) and the page will load as expected.