Personal Information
Gender:
Male
Birthplace:
Philadelphia, Pennsylvania, U.S.
Career information
Series involved with:
Good Times
Job on series
Co-wrote episode "Blood Will Tell" (Season 6) with sister Celia Bonaduce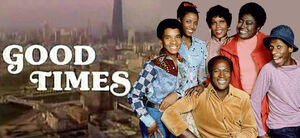 Anthony Bonaduce co-wrote the Season 6 episode of Good Times titled "Blood Will Tell" with fellow screenwriting sister Celia Bonaduce. Anthony also contributed to the writing of two episodes of One Day at a Time, one with sister Celia, and another with brother Joseph, as well as an episode of the animated Flintstone Comedy Hour with Celia, in 1980. Anthony is also the brother of former The Partridge Family TV series star Danny Bonaduce.
External links
Edit
Ad blocker interference detected!
Wikia is a free-to-use site that makes money from advertising. We have a modified experience for viewers using ad blockers

Wikia is not accessible if you've made further modifications. Remove the custom ad blocker rule(s) and the page will load as expected.