Austin and Irma Kalish produced 48 episodes of Good Times, all of the episodes of Seasons 4 and 5.

Personal Information
Birthname:
Austin Roy Kalish (Austin)
Irma Ginsberg (Irma)
Gender:
Male (Austin) & Female (Irma)
Born:

October 6, 1924 (Irma)
February 3, 1921 (Austin)
Birthplace:
New York City, NY, U.S.
Related to:
TV producer Bruce Kalish (son)
Nancy Kalish Biederman (daughter)
Leah Ayres (daughter-in-law)
Career information
Occupation/
Career:
TV producer/Screenwriter
Series involved with:
Good Times
Job on series
co-produced 48 episodes, Seasons 4 & 5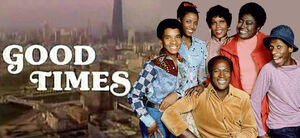 Austin Kalish (born Austin Roy Kalish on February 3, 1921) and his wife, Irma Kalish (born Irma Ginsberg October 6, 1924) co-produced a total of 48 episodes of Good Times in Seasons 4 and 5, beginning with the Season 4 season opening story arc, the episodes "The Big Move: Part 1" and "The Big Move: Part 2", the last episode they produced was the season ending episode of Season 5 which was titled "That's Entertainment, Evans Style". Their son, Bruce Kalish, who is also a TV producer/screenwriter, also wrote three Season 5 episodes.
Both Austin and Irma were born and raised in Jewish families in New York City. They both, over the long course of their career in Hollywood, have produced and written episodes for such TV shows as Gilligan's Island, The Bob Newhart Show, Good Times, All In The Family, Carter Country, Too Close for Comfort and The Facts of Life.
External links
Edit
Ad blocker interference detected!
Wikia is a free-to-use site that makes money from advertising. We have a modified experience for viewers using ad blockers

Wikia is not accessible if you've made further modifications. Remove the custom ad blocker rule(s) and the page will load as expected.