Personal Information
Birthname:
Barry Edward Blitzer
Gender:
Male
Born:
April 21, 1929
Birthplace:
New York City, NY, U.S.
Died
January 27, 2010
(aged 80)
Deathplace:
Santa Monica, California, U.S.
Spouse(s):
Elsie Blitzer
Career information
Occupation/
Career:
Television writer
Years active:
1955-1991
Series involved with:
Good Times
Job on series
Wrote story for episode "The Nude" in Season 2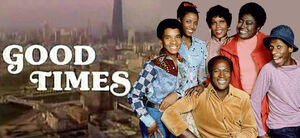 Barry E. Blitzer (April 21, 1929 – January 27, 2010)[1] wrote the story for the Season 2 episode "The Nude".
Life and career
Edit
Blitzer was well known as a writer for the Hanna-Barbera cartoons including The Flintstones, Top Cat, and The Jetsons.
Listed as the last surviving member of a group of writers that won a 1956 Best Comedy Writing Emmy, the award was given for his work on the show The Phil Silvers Show and the episode was "You'll Never Get Rich".
He worked on 1970s children's TV show Land of the Lost and the 1960s comedy series Get Smart along with writing stints on The Love Boaf, Too Close for Comfort, McHale's Navy as well as Good Times.
Blitzer was part of a group of writers that won a 1956 Primetime Emmy Award for Best Comedy writing. He also was nominated for a Writers Guild award for his work on Get Smart.
Blitzer died on Jan. 27, 2010 at the age of 80 after complications from abdominal surgery.
References
Edit
External links
Edit
Ad blocker interference detected!
Wikia is a free-to-use site that makes money from advertising. We have a modified experience for viewers using ad blockers

Wikia is not accessible if you've made further modifications. Remove the custom ad blocker rule(s) and the page will load as expected.