Bern Nadette Stanis played the part of Thelma Evans-Anderson on the series.
Personal Information
Gender:
Female
Birth name:
Bernadette Stanislaus
Born:
December 22, 1953
Birthplace:
Brooklyn, New York
Career/Family Information
Occupation/
Career:
Actor/author
Years active:
1974-present
Spouse(s):
Tom Fauntleroy (1977-1980)
Kevin Fontana (1981-present)
Children:
Cheyenne Fauntleroy
Dior Ravel
Brittany Rose
Character information
Appeared on:
Good Times from Season 1-6
Character played:
Thelma Evans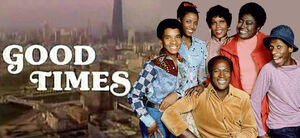 Bern Nadette Stanis (born Bernadette Stanislaus; December 22, 1953) is an American actress and author. She played Thelma Evans, the middle child of Florida and James Evans on Good Times from 1974-1979.
Life and career
Edit
Born Bernadette Stanislaus in Brooklyn, New York to Eula and John Stanislaus . She is a graduate of the Juilliard School. She made other appearances on several television shows, including The Cosby Show and What's Happening Now!!. She and former co-star Jimmie Walker lent their voices to a radio spot for AT&T. Stanis was most recently seen in a Nationwide Insurance commercial.
Filmography
Edit
Television
Edit
Good Times (1974-1979) as Thelma Evans
The Love Boat (1980) as Jane Reeves
What's Happening Now!! (1985) as Marcie
Bustin' Loose (1987) as Ms. Fisher
The Cosby Show (1991) as Carolyn Thompson
The Good News (1997) as Audrey
The Wayans Bros. (1997)
The Parent 'Hood (1999) as L'Tonya
Girlfriends (2003) as herself
Hidden Blessings (2000) as Jackson's Lawyer
Land of the Free? (2004) as Psychiatrist
Still 'Bout It (2004) as Aunt Tee Dee
The Engagement: My Phamily BBQ 2 (2006) as Mrs. Clark
CAUTION! Heartache Ahead (2009) as Vera
The Adventures of Umbweki (2009) as Usahnisa
In the Midnight Hours (2009) as Cheryl
N-Secure (2010) as Dr. Heather
References
Edit
External links
Edit
Ad blocker interference detected!
Wikia is a free-to-use site that makes money from advertising. We have a modified experience for viewers using ad blockers

Wikia is not accessible if you've made further modifications. Remove the custom ad blocker rule(s) and the page will load as expected.