Beverly Hope Atkinson
Personal Information
Gender:
Female
Born:
December 9, 1935
Birthplace:
New York City, NY, U.S.
Died
December 11, 2001
(aged 66)
Deathplace:
Los Angeles, CA, U.S.
Career/Family Information
Occupation/
Career:
Actress
Years active:
1960's-1991
Character information
Appeared on:
Good Times
Character played:
Savannah Morgan in "The Witness" in Season 6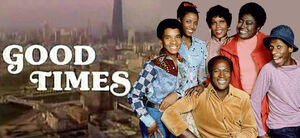 Beverly Hope Atkinson (December 9, 1935 – December 11, 2001) appeared on Good Times as Savannah Morgan, the girlfriend of Sweet Daddy Williams who got involved in a fender-bender with Keith, who drives a taxicab in the Season 6 episode "The Witness". a noted stage, film and TV actress from the 1960s until 1991, Beverly was known for her character work playing women down-on-their-luck or caught up in drug addiction.
Beverly studied under Lee Strasberg in the 1960s and later became a member of the Actors Studio. After attending New York's City College (CCNY), she began her career on the New York stage with the Café LaMama Theater troupe and Theater West in Los Angeles, touring in such productions as </span>The Skin of Our Teeth, Lysistrata and The Blacks, before relocating to Hollywood in the early 1970s. She impressed in her very first film role, that of a streetwise hooker in The New Centurions (1972) with George C. Scott.
She also had a role in the 1973 Ralph Bashki animated film Heavy Traffic as a black woman named Carole. She began her television career with minor roles, but found steadier work as her character career continued in the same flashy vein: playing angry women down-on-their-luck or whose lives were caught up in drugs and addiction, most notably in a recurring role on Hill Street Blues from 1984–1986.
Atkinson died of cancer in Los Angeles at the age of 66.
External links
Edit
&Beverly Hope Atkinson at the Internet Movie Database
Ad blocker interference detected!
Wikia is a free-to-use site that makes money from advertising. We have a modified experience for viewers using ad blockers

Wikia is not accessible if you've made further modifications. Remove the custom ad blocker rule(s) and the page will load as expected.