Beverly Kushida with husband Michael Ansara, c. 1977
Personal Information
Gender:
Female
Born:
July 3, 1948
Birthplace:
United States
Career/Family Information
Occupation/
Career:
Actress
Years active:
1969-1978
Spouse(s):
Michael Ansara, 1977 until his death
Character information
Appeared on:
Good Times
Character played:
as Japanese Retaurant Waitress in "Florida the Woman" (Season 6)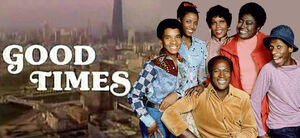 Beverly Kushida (born on July 3, 1948) appeared as a Japanese restaurant waitress in the season 3 episode of Good Times titled "Florida the Woman". She is best known for appearances in the films The Manitou (1978) and Judge Dee and the Monastery Murders (1974) as well as guest appearances on the hit shows Hawaii Five-O, Kung Fu, and Police Story, and a recurring role as the voice of Nancy Chan in the short-lived CBS Saturday morning animated cartoon series The Amazing Chan and the Chan Clan (1972). She was married to late TV/film lead actor Michael Ansara.
External links
Edit
Ad blocker interference detected!
Wikia is a free-to-use site that makes money from advertising. We have a modified experience for viewers using ad blockers

Wikia is not accessible if you've made further modifications. Remove the custom ad blocker rule(s) and the page will load as expected.