Bob Delegall as Dr. Blake in the Season 5 episode "The Evans Get Involved: Part 2."
Personal Information
Born:
July 24, 1945
Birthplace:
Philadelphia, Pennsylvania, U.S.
Died
March 21, 2006
(aged 60)
Deathplace:
Venice, California, U.S.
Career/Family Information
Occupation/
Career:
Actor, television director, television producer
Years active:
1972–2005
Spouse(s):
Fran Saperstein (2 children)
Character information
Appeared on:
Good Times
Character played:
Dr. Blake in "The Evans Get Involved: Part 2" (Season 5)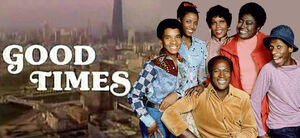 Bob Delegall (sometimes credited as Robert W. Delegall) (July 24, 1945 – March 21, 2006) was an actor, television director and producer. He guest starred in number of notable television series namely Adam-12, The Six Million Dollar Man, Knots Landing, among other series. He appeared on Good Times as Dr. Blake, a physician who treats Penny after she is bruised and burned by her mother, Lenela Gordon, in the Season 5 episode "The Evans Get Involved: Part 2".
Life and career
Edit
Delegall was born in Philadelphia, PA.[1] Along with acting on film and television he appeared in a number of Philadelphia and Broadway theater productions, namely The Basic Training of Pavlo Hummel and The Sunshine Train among others.
Delegall was also an acting coach teaching actors Gregory Hines, Malcolm-Jamal Warner, Michael O'Keefe and Tyra Banks.[2]
After guest starring in number of notable television series, Delegall pursued a career in television directing and producing in 1997. He served as director and producer on the CBS-TV sitcom The Gregory Hines Show followed by directing episodes of the Showtime drama Linc's in 1998. He went back to acting in 2003 after a seven-year hiatus.
Delegall died on March 21, 2006 in Venice California after fighting a ten-year battle with prostate cancer.[3] He is survived by his wife Fran Saperstein, a film and television producer and their two children, Jewel and Eric.
References
Edit
External links
Edit
Ad blocker interference detected!
Wikia is a free-to-use site that makes money from advertising. We have a modified experience for viewers using ad blockers

Wikia is not accessible if you've made further modifications. Remove the custom ad blocker rule(s) and the page will load as expected.