Personal Information
Gender:
Male
Career information
Occupation/
Career:
Screenwriter/TV producer
Years active:
1974-1992
Series involved with:
"Good Times"
Job on series
Writer, 11 episodes (Seasons 1 & 2)
Production consultant - 29 episodes (Seasons 2 & 3)
Story editor - 24 episodes (Seasons 3 & 4)
Program consultant - 13 episodes (Season 3)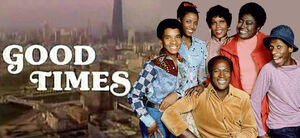 Bob Peete was involved in a total of 71 episodes of Good Times in Seasons 1 through 4, as either a script, production, program or story consultant, beginning with the Season 1 episode titled "Florida Flips", concluding with the second of a two episode story arc, "Love Has a Spot on His Lung: Part 2" at the end of Season 4. He also wrote a total of 11 episodes, beginning with the series' pilot episode. "Too Old Blues", concluding with the Season 2 finale episode "Thelma's African Romance: Part 2", which was the second part of a two episode story.
In addition to the episodes of Good Times he wrote, Bob has also written scripts for Diff'rent Strokes, The Facts of Life, the short-lived TV series He's The Mayor, Melba, What's Happening Now!!, and Amen, the latter three series both being of which he also produced several episodes.
External links
Edit
Ad blocker interference detected!
Wikia is a free-to-use site that makes money from advertising. We have a modified experience for viewers using ad blockers

Wikia is not accessible if you've made further modifications. Remove the custom ad blocker rule(s) and the page will load as expected.