Bruce Howard in episode of the NBC-TV sitcom "I Dream of Jeannie" in 1969.

Personal Information
Gender:
Male
Born:
June 6, 1925
Birthplace:
Brooklyn, NY, U.S.
Died
January 30, 2012
(aged 86)
Deathplace:
Studio City, California, U.S.
Career information
Occupation/
Career:
Screenwriter, Stand-up comedian, Actor
Years active:
1962-1988
Series involved with:
Good Times
Job on series
Writer, 2 episodes, Season 3
Writer, story/teleplay, 3 episodes, Seasons 4 and 6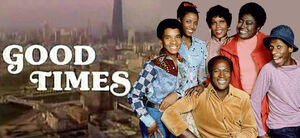 Bruce Howard (born June 6, 1925-died January 30, 2012) wrote two episodes of Good Times; the episodes "The Baby" and "The Investigation" in Season 3. He also had parts in writing the story and teleplay for three other episodes, "J.J. and the Older Woman" in Season 4, and "Florida's Homecoming: Part 1" and "The Witness" in Season 6; he also served as a story editor for 12 Season 6 episodes, beginning with the episode "Florida's Homecoming: Part 1", and concluding with "Florida's Favorite Passenger: Part 1".
Life and career
Edit
Howard wrote 32 episodes of NBC-TV's The Red Skelton Show in 1962-63 and also wrote multiple episodes of shows including McHale's Navy and, later, ABC-TV's The Love Boat. He wrote one or two episodes of CBS' The Lucy Show, NBC's I Dream of Jeannie, CBS's One Day at a Time and The Jeffersons (two other Bud Yorkin-Norman Lear produced CBS sitcoms, like Good Times), Alice, Too Close for Comfort, Punky Brewster, What's Happening, Trapper John, M.D., and The Dukes of Hazzard, for a total of 12 episodes, during which he also was story editor.
Born in Brooklyn, Howard started in showbiz as a performer, working as a standup comic with the likes of Milton Berle and Shecky Greene. He appeared in the Catskills and elsewhere around the country. He was also a bit role actor, who appeared in two sitcoms; the short lived ABC-TV series Good Morning, World (1965) and the NBC-TV series I Dream of Jeannie (1969).
Howard died of natural causes in January 2012 at his home in Studio City, CA. He wes survived by his wife of 39 years, Gayle; three sons; and a daughter.[1]
References
Edit
External links
Edit
Ad blocker interference detected!
Wikia is a free-to-use site that makes money from advertising. We have a modified experience for viewers using ad blockers

Wikia is not accessible if you've made further modifications. Remove the custom ad blocker rule(s) and the page will load as expected.