Calvin Lockhart
Personal Information
Nationality
Bahamian-American
Birth name:
Bert Cooper
Born:
October 18, 1934
Birthplace:
Nassau, Bahamas
Died
March 29, 2007
(aged 72)
Deathplace:
Nassau, Bahamas
Career/Family Information
Occupation/
Career:
Actor
Years active:
1961–2007
Character information
Appeared on:
Good Times
Character played:
Raymond Brown, Florida's cousin, in "Cousin Raymond" (Season 6)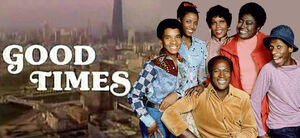 Calvin Lockhart (born Bert Cooper on October 18, 1934 – died March 29, 2007) was a Bahamian-American actor who was best known for his role as Biggie Smalls, a big-time gangster in the 1975 Warner Bros. comedy/blaxplotation film Let's Do It Again alongsides film co-stars Sidney Poitier and Bill Cosby as well as Jimmie Walker, who also appears in the film as Bootney Farnsworth. Calvin made a guest appearance on Good Times as Raymond Brown, Florida's cousin, who came to give her the news that he was going to lease to her a new suburban apartment, when he reveals that he's professional gambler in the Season 6 episode "Cousin Raymond".
Calvin's first notable screen role was in Joanna, a 1968 film about an interracial romance, set in London, in which he played a nightclub owner and the boyfriend of star Genevieve Waite. Joanna was directed by Michael Sarne, the British director who subsequently cast Lockhart in the notorious Myra Breckinridge, starring Raquel Welch and Mae West. Lockhart's first lead role in a movie was in the 1970 release Halls of Anger, where he played the part of an English teacher and former basketball star who becomes vice-principal of an inner-city high school to which 60 white students are being moved.
An article in The New York Times that year described Lockhart as having "matinee-idol looks" with "chiseled-out-of-marble features" and "skin the color of brown velvet". He also starred in Ossie Davis's Cotton Comes to Harlem (1970) as the Reverend Deke O'Malley, who is under investigation by the movie's main characters.
Lockhart died in a Nassau hospital from stroke-related complications. His wife and son indicated they would establish the Calvin Lockhart Scholarship Fund for Bahamian students interested in acting and movie production.
External links
Edit
Ad blocker interference detected!
Wikia is a free-to-use site that makes money from advertising. We have a modified experience for viewers using ad blockers

Wikia is not accessible if you've made further modifications. Remove the custom ad blocker rule(s) and the page will load as expected.