Carl Lee in scene in in the 1972 flim "Superfly".
Personal Information
Birth name:
Carl Vincent Canegata
Born:
November 22, 1926
Birthplace:
New York City, New York, U.S.
Died
April 17, 1986
(aged 59)
Deathplace:
New York City, New York, U.S.
Career/Family Information
Occupation/
Career:
Actor, scriptwriter, voice actor
Years active:
1954–1983
Character information
Appeared on:
Good Times
Character played:
Ray Woods, Willona's ex-husband in "Willona's Surprise" (Season 4)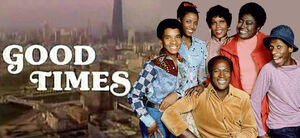 Carl Lee (born Carl Vincent Canegata on November 22, 1926 – died on April 17, 1986), made a guest appearance on Good Times as Ray Woods, Willona's ex-husband, who comes back to try to rekindle their relationship and to propose marriage to her, berore he's found out to be unchanged in his philandering ways, after he tries to hit on Thelma in the Season 4 episode titled "Willona's Surprise". A respected TV/film and stage actor, He was also the son of actor/professional boxer turned actor Canada Lee (1907–1952).[1]
In a 2000 interview, filmmaker James Toback stated, "In the sort of hip world of New York, Carl Lee was the hip-black-actor icon. He was for hip people what Sidney Poitier was for mainstream people."[2]
In perhaps his best recognized stage performance, Carl played a heroin dealer, the title role in the Obie Award-winning play The Connection. He later appeared in the film version.[3]
Lee, who made his first film appearance in the 1954 film Human Desire, went on to appear in such films as A Man Called Adam (1966) opposite Sammy Davis, Jr. and Cicely Tyson, and the now classic blaxploitation film Superfly (with the late Ron O'Neal) in 1972. He also appeared in various television roles in such shows as The Defenders, Mannix, as well as Good Times ("Willona's Surprise", 1977) in which he portrayed Willona Woods's conniving ex-husband Ray, who makes sexual advances towards Thelma.
References
Edit
External links
Edit
Ad blocker interference detected!
Wikia is a free-to-use site that makes money from advertising. We have a modified experience for viewers using ad blockers

Wikia is not accessible if you've made further modifications. Remove the custom ad blocker rule(s) and the page will load as expected.