Charles Siebert
Personal Information
Gender:
Male
Birth name:
Charles Alan Siebert
Birthplace:
Kenosha, WI, U.S.
Career/Family Information
Character information
Appeared on:
Good Times
Character played:
A.J. Rutherford in "House Hunting" (Season 6)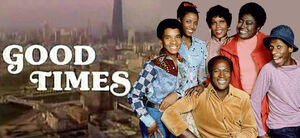 Charles Siebert (born on March 9, 1938) appeared as A.J. Rutherford, a bank loan officer who was sympathetic in his helping the Evans' attempt to get a loan for a new house which they were trying to buy to move into, in the Season 6 episode "House Hunting".
As an actor he is probably best known for his role as Dr. Stanley Riverside II on the television series Trapper John, M.D. which he portrayed from 1979-1986. Although he still occasionally works as an actor, after 1986 Siebert's career has focused on working as a director for episodic television for such shows as Xena: Warrior Princess, and Hercules: The Legendary Journeys.
Born and raised in Kenosha, WI, Charles studied acting at Marquette University under legendary teacher Fr. John J. Walsh, S.J. and later at the London Academy of Music and Dramatic Art (LAMDA). He began his career appearing in regional theatre productions throughout the United States during the 1960s with such companies as Shakespeare in the Park in New York City, the Lincoln Center Repertory Company, the American Shakespeare Festival in Stratford, Connecticut, the Guthrie Theater, the McCarter Theatre in Princeton, Chicago's Goodman Theatre, and Baltimore's Center Stage. He spent seven summers at the Williamstown Theatre Festival and is a charter member of the American Conservatory Theater.
Starting out in the entertainment industry as a stage/TV actor, When he directed an episode of Trapper John, M.D., which he played the part of Dr. Stanley Riverside, that he was co-starring in at the time, which eventually resulted in numerous episodes of Xena, Warrior Princess, Hercules: the Legendary Journeys, Silk Stalkings, ;;Renegade, Pacific Blue, and Vanishing Son, as well as episodes of Knot's Landing, The Pretender, lifestories, Palace Guard and Jack's Place.
He made his Broadway debut in 1967 in Bertolt Brecht's Life of Galileo followed by the role of Michael Leon in John Sebastian and Murray Schisgal's 1968 musical Jimmy Shine with Dustin Hoffman in the title role. Subsequent Broadway appearances included Neil Simon's The Gingerbread Lady, with Maureen Stapleton, David Storey's The Changing Room, David Rabe's Sticks and Bones, and the 1974 revival of Tennessee Williams' Cat on a Hot Tin Roof starring Elizabeth Ashley, Fred Gwynne, and Keir Dullea. Notable Off-Broadway appearances include Colette starring Zoe Caldwell, and Rubbers directed by Alan Arkin.
External links
Edit
Ad blocker interference detected!
Wikia is a free-to-use site that makes money from advertising. We have a modified experience for viewers using ad blockers

Wikia is not accessible if you've made further modifications. Remove the custom ad blocker rule(s) and the page will load as expected.