Chip Fields
Personal Information
Gender:
Female
Also known as:
Chip Hurd
Chip Fields-Hurd
Born:
August 5, 1951
Birthplace:
New York City, New York, U.S.
Career/Family Information
Occupation/
Career:
Singer, Actress, Television Director, Consultant, Dialogue Coaching
Spouse(s):
Erv Hurd, 1994-present
Children:
Kim Fields (b. 1969)
Alexis Fields (b. 1979)
Character information
Appeared on:
Good Times
Character played:
Rochelle / Lenela Gordon in 6 episodes in Seasons 4-6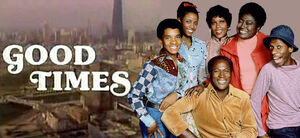 Laverne "Chip" Fields (born August 5, 1951), who is sometimes credited as Chip Hurd or Chip Fields-Hurd, is a talented singer, actress, television director, consultant, and dialogue coach, who has appeared in popular films, television shows, and Broadway theatre. She is best known for her recurring role on Good Times as Lenela Gordon, the abusive birth mother of Penny Gordon Woods in a four-part episode story which begins with the episode "The Evans Get Involved: Part 1" in Season 5 of Good Times; she makes her first series appearance as Rochelle in the second episode of a two-part story in Season 4 titled "J.J.'s New Career: Part 2".
Acting career
Edit
Fields began her acting career as an extra in the 1974 film Claudine. She has had numerous supporting roles and guest appearances on television. She played an unwed mother opposite Patty Weaver in the NBC television soap opera, Days of our Lives. Also during the '70s, she played as Millicent "Penny" Gordon Woods (Janet Jackson) mother on the sitcom Good Times. She played Rita Conway in the short-lived The Amazing Spider-Man TV Series from 1978-1979. Rita Conway was J. Jonah Jameson's secretary, the same function as the African-American Glory Grant from the 1970s comics. She also appeared in What's Happening!!, Hill Street Blues, T.J. Hooker, Roc, Kirk (a short-lived sitcom starring Kirk Cameron), The Wayans Bros., and The Parkers.
Chip, asides from acting, has been a consultant for The Parkers, Zenon: Girl of the 21st Century, Living Single, and was a dialogue coach for the film, Menace II Society. She has also directed episodes of the popular UPN sitcoms, One on One, All of Us, Girlfriends, The Parkers, as well as episodes of Romeo!, Just Jordan, Ned's Declassified School Survival Guide, Hannah Montana, Tyler Perry's House of Payne and Meet the Browns.[1]
Personal life
Edit
Chip is the mother of actress Kim Fields (famous for her roles on Facts of Life and Living Single), who also twice appeared on the series as Kim in the Season 6 episodes "The Snow Storm" and "The Physical", and Alexis Fields (famous for her roles on Kenan & Kel, Moesha and Sister, Sister). Chip has been married to technical director Erv Hurd since August 20, 1994.
References
Edit
External links
Edit