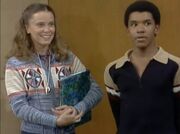 Nancy Morgan as Cindy Crebbins
Personal Information
Gender:
Female
Occupation/
Career:
College Student
Character
description:
Places an ad on the campus bulletin board for a new roommate, which Michael, looking to get more space, answers
Character information
Appeared on:
Good Times
Episodes appeared in:
"Michael's Decision" (Season 6)
Character played by:
Nancy Morgan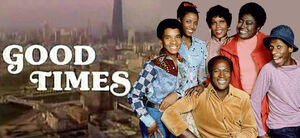 Cindy Crebbins, a college classmate of Michael's, appears in the Season 6 episode of Good Times titled "Michael's Decision". The part of Cindy is played in the episode by Nancy Morgan.
About Michael and Cindy
Edit
When Michael, fed up with the overcrowded living arrangement, decides that he has to move out of the Evans' apartment, he answers an ad placed by Cindy, who lives in an apartment off campus, and is looking for a roommate to share the expenses.
Wnen the two break the news to Florida, she is not pleased with the prospect of Michael and Cindy living together, as she thinks that they, both being are too young and being of the opposite sex, that some hanky-panky would be going on, which she and Michael both shoot down in trying to assure everybody that nothing of the sort would be going on, that they'd only be studying togther. Not to mention that she is white, which surprises all when she drops by the apartment!
Apparently, it was still okay with Jim and Julie, Cindy's parents for her to live on her own, although they were worried about her living alone. The only problem there is that they did not know that the person that answered her ad on the campus bulletin board is black, and lives in the ghetto, which they find out about later!
Ad blocker interference detected!
Wikia is a free-to-use site that makes money from advertising. We have a modified experience for viewers using ad blockers

Wikia is not accessible if you've made further modifications. Remove the custom ad blocker rule(s) and the page will load as expected.