Conchata Ferrell
Personal Information
Gender:
Female
Birth name:
Conchata Galen Ferrell
Born:
March 28, 1943
Birthplace:
Charleston, West Virginia, U.S.
Career/Family Information
Years active:
1970-present
Character information
Appeared on:
Good Times
Character played:
Miss Johnson in "Willona, the Fuzz" in Season 5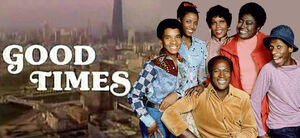 Conchata Galen Ferrell (born March 28, 1943) makes a guest appearance on Good Times as Miss Johnson, Willona's supervisor on her new department store security detective job who must constantly spy on her to make sure Willona is doing her job watching for possible shoplifting in the Season 5 episode "Willona, the Fuzz". Conchata, a veteran actress who has had a long career in mostly TV series and film roles, is perhaps best and most recently known for her role as Berta, the middle-aged housekeeper in the CBS sitcom Two and a Half Men, for which she received a 2005 and a 2007 Emmy Award nomination for Best Supporting Actress in a Comedy Series. She was previously nominated in 1992 for Best Supporting Actress in a Drama Series for her role as Susan Bloom on L.A. Law.
Personal life
Edit
Ferrell was born in Charleston, WV, the daughter of Mescal Loraine (née George) and Luther Martin Ferrell, and grew up in Circleville, Ohio. She attended West Virginia University, and graduated from Marshall University with a degree in social studies in education. She is married to Arnie Anderson and has one daughter, Samantha.
Conchata began her career on the stage, appearing in the original Broadway cast of Lanford Wilson's Hot L Baltimore and winning both the Drama Desk and Obie Awards for the off-Broadway The Sea Horse. A successful character actress, her career has spanned three decades and includes supporting roles in such films as Network, Mystic Pizza, Edward Scissorhands, Erin Brockovich, Crime and Punishment in Suburbia, Mr. Deeds and K-PAX. Her other television credits include Buffy the Vampire Slayer, Hot L Baltimore, Teen Angel, B.J. and the Bear, Good Times, Hearts Afire, Townies, Night Court, and Push, Nevada. She played Mrs. Werner in the episode of Quincy M.E. titled "Into the Murdering Mind" (1982). She has also made memorable appearances portraying blunt, authoritative judges (The "Jagged Sledge" episode of Sledge Hammer! in 1987, and on "The One With Joey's Porsche" episode of Friends in 1999).
External links
Edit
Ad blocker interference detected!
Wikia is a free-to-use site that makes money from advertising. We have a modified experience for viewers using ad blockers

Wikia is not accessible if you've made further modifications. Remove the custom ad blocker rule(s) and the page will load as expected.