David Damas
Personal Information
Gender:
Male
Career/Family Information
Occupation/
Career:
Actor/Comedian, Still photographer
Years active:
1979-present
Character information
Appeared on:
Good Times
Character played:
Leroy "Bad News" Jones in "Blood Will Tell" (Season 6)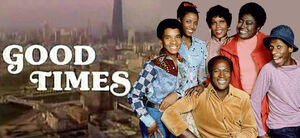 David Damas appeared on Good Times as Leroy "Bad News" Jones, the diminutive right hand man of Marion "Sweet Daddy" Williams, who conspires to rob the local blood bank of U+ blood, which is Sweet Daddy's type, as he also tries to intimidate J.J. into not showing up as the donor for a direly needed blood transfusion for "Sweets" in his attempt to take control of his bosses' rackets upon Sweets' possible death in the Season 6 episode "Blood Will Tell".
A comedian and character actor, David appeared in minor guest roles on the CBS-TV series Falcon Crest, and the short-lived Dukes of Hazzard spinoff Enos, as well as appearances in the films Midnight Madness (1980) and Don't Touch If You Ain't Prayed (2005). He also appeared on the TVOne documentary series Unsung Hollywood, in the episode biography of late comedian Robin Harris in 2014.
On the technical side, David served as the still photographer for the film House of Grace (2006).
External links
Edit
Ad blocker interference detected!
Wikia is a free-to-use site that makes money from advertising. We have a modified experience for viewers using ad blockers

Wikia is not accessible if you've made further modifications. Remove the custom ad blocker rule(s) and the page will load as expected.