DeAnn Mears in the stage production "Over the River and Through Woods" in 2009.
Personal Information
Gender:
Female
Born:
June 13 ????
Birthplace:
Fort Fairfield, Maine, U.S.
Career/Family Information
Occupation/
Career:
Actress
Years active:
1959–present
Character information
Appeared on:
Good Times
Character played:
Julie Crebbins, Cindy's mom in "Michael's Decision" (Season 6)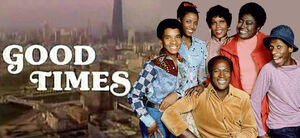 DeAnn Mears guest starred on Good Times as Julie Crebbins, the mother of Cindy Crebbins, a college classmate of Michael who puts out an bulletin board ad for a roommate to share expenses in her of campus apartment, which Michael answers in "Michael's Decision" in Season 6.
DeAnn Mears was born in Fort Fairfield, Maine. In addition to her Good Times appearance, in the 1970's, she also made guest appearances on NBC-TV's McCloud TV series, the short-lived Beacon Hill series and ABC-TV's Baretta series, as well as appearances in the films Presumed Innocent (1990), The Loneliest Runner (1976) and Beacon Hill (1975).
Most recently, DeAnn has been appeared in the 2009 stage play Over The Hill and Through The Woods, which ran at the Segal Theatre, in Montreal, Quebec. [1]
References
Edit
External links
Edit
Ad blocker interference detected!
Wikia is a free-to-use site that makes money from advertising. We have a modified experience for viewers using ad blockers

Wikia is not accessible if you've made further modifications. Remove the custom ad blocker rule(s) and the page will load as expected.