Veteran actor Deforest Covan appeared as Rev. Beasley in the Season 5 episode "Something Old, Something New".
Personal Information
Gender:
Male
Born:
September 9, 1917
Birthplace:
Chicago, Illinois, U.S.
Died
September 8, 2007
(aged 89)
Deathplace:
Los Angeles, California, U.S.
Career/Family Information
Character information
Appeared on:
Good Times;;
Character played:
Reverend Beasley in Something Old, Something New in Season 5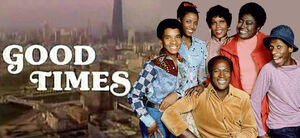 DeForest Covan (September 9, 1917-September 8, 2007) appeared as Reverend Beasley in the Season 5 episode of Good Times titled "Something Old, Something New". On the NBC-TV sitcom Sanford and Son DeForest originated the Uncle Woodrow character, appearing the "Sanford and Son" episode titled "Members of The Engagment/The Wedding" (Season 3, Episode 9) in 1973, before being replaced in the role by Raymond Allen.
A venerable actor, dancer, and former black vaudeville performer, DeForest, who was born and raised in Chicago, had a career which spanned eight decades. He made his first film appearance in the Al Jolson dance/musical film titled "The Singing Kid" (1936), where he had a uncredited appearance as a dancer. He would appear in numerous productions over the next two decades such as Every Day's a Holiday (1937) Too Hot to Handle (1938), Going Places (1938), New Moon (1940), Take My Life (1942), No Time For Romance (1948) and the highly successful Harry Belafonte/Dorothy Dandrige film Carmen Jones in 1954.
After a long stretch without a film appearance, In the 1970s, DeForest began a string of guest and/or supporting roles on TV and film, appearing in such shows as his part as Woodrow on Sanford and Son, the short lived CBS-TV series Apple's Way (1974), a supporting role as Josh on the ABC-TV sitcom series That's My Mama (1975), and guest roles on the CBS-TV sitcom Good Times (1976), NBC-TV's Police Story (1976), and CBS's Kojak (1977). He also had small parts in such high-grossing films such as The Day Of The Locust (1975), the Academy Award-Winning film Rocky (1976), and Beneath the Valley of the Ultravixens (1979).
In his latter years, DeForest would appear in the films Body and Soul (1983), The Night Before (1988), and To Sleep With Anger (1990), and make numerous guest appearances on such shows as FOX-TV's Martin (1993) and NYPD Blue (1993). DeForest died in Los Angeles a day before his 90th birthday, September 8, 2007.
External links
Edit
Ad blocker interference detected!
Wikia is a free-to-use site that makes money from advertising. We have a modified experience for viewers using ad blockers

Wikia is not accessible if you've made further modifications. Remove the custom ad blocker rule(s) and the page will load as expected.