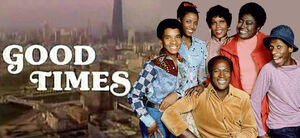 Derek Wells (born August 2, 1967) appeared on Good Times as Larry Baker, one of the students who rides on the school bus which Florida Evans drives, whom Florida also suspects has a hearing problem in the Season 6 story arc, the episodes titled "Florida's Favorite Passenger: Part 1" and "Florida's Favorite Passenger: Part 2".
Derek, the son of longtime Hollywood film actor/cameraman Charles Wells,  is a former child actor who made appearances on such shows in the mid 1970's, such as Alice. Salvage1, The Fitzpatricks, ABC Weekend Specials, and later, in the 1985 film The Big Bet.
As an adult, Derek ventured into world of film/video set production by 1989, following the footsteps of his father, starting the Unsung Heroes Unlimited (UHU)m which services with grip and lighting equipment,as well as grip truck and generator rentals, and then later in 2008, Big Picture Soundstage, which offers studio space and grip/lighting equipment rentals all under one roof,  [1]
References
Edit
External links
Edit
Ad blocker interference detected!
Wikia is a free-to-use site that makes money from advertising. We have a modified experience for viewers using ad blockers

Wikia is not accessible if you've made further modifications. Remove the custom ad blocker rule(s) and the page will load as expected.