Louus Gossett, Jr. as Donald Knight.
Personal Information
Gender:
Male
Age:
42
Occupation/
Career:
Businessmam/Fast food franchise co-owner with father
Character
description:
Garners suspicion from Florida and James when it's revealed that he and Thelma had been dating for 2 months when she introduces him to the family
Presents Thelma with an engagement ring, offering marriage, before she turns him down
Character information
Appeared on:
Good Times
Episodes appeared in:
"Thelma's Young Man" (Season 2)
Character played by:
Louis Gossett, Jr.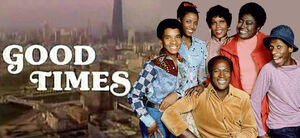 Donald Knight, a new boyfriend of Thelma's, who's closer to James's age, appears in the episode " Thelma's Young Man" in Season 1 of Good Times.  The part of Donald is played in the episode by Wilbert Wilson, Florida's younger brother, in "Michael's Big Fall" in Season 3.  
About Donald
Edit
When Thelma is overly secretive about her new beau, the family, particularly Florida and James, already curious as to whom the mystery man in her life is. The two start to become suspicious that Thelma is trying to hide him from them. When Thelma, who's been dating Donald for the past 2 months, buckles in and decides to introduce him to the family, to say the least, are all shocked, to see that he is much older than her; frankly, he is about the age of James!
When Donald presents an engagement ring as he and Thelma announce their plans to marry, Florida and James are not exactly thrilled with the news as Donald, who, ast age 42, is more than twice Thelma's age, has the question posed to him by James, as to why someone his age would be interested in his 19-year old daughter, he says thet he is genuinely in love with her.
When Florida and James learns from Thelma that Donald is quite successful in the fast food business, it kind of softens the blow somewhat, as they learn he's financially secure; when Donald and James begin to talk, they seem to connect well, as James says to him that he's not such a bad guy and would make some woman a good husband, but "not his daughter!"
As for Thelma, who seems to have reservations about becoming engaged to Donald, Florida poses the question to her if she really is in love with him, she would do as she did when she was engaged to James, that she "wanted to tell the whole world".
Anyhow, their relationship ends as Thelma, who could'nt come to tell Donald that she  loves him only as a friend, but isn't in love with him, finally, after the heart to heart talk with her mother, gives Donald back his engagement ring.
Ad blocker interference detected!
Wikia is a free-to-use site that makes money from advertising. We have a modified experience for viewers using ad blockers

Wikia is not accessible if you've made further modifications. Remove the custom ad blocker rule(s) and the page will load as expected.