Donald McKayle directed three episodes of "Good Times" in its' first season.

Personal Information
Born:
July 6, 1930
Birthplace:
New York City, New York, U.S.
Career information
Occupation/
Career:
modern dancer, choreographer, teacher, director
Years active:
1948-present
Series involved with:
Good Times
Job on series
Directed 3 episodes in Season 1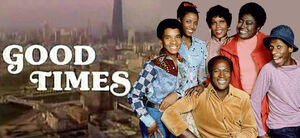 Donald McKayle (born July 6, 1930) directed three episodes of Good Times; the Season 1 episodes "Too Old Blues", "Getting Up The Rent" and "God's Business is Good Business".
A modern dancer, choreographer, teacher, director and writer best known for creating socially conscious concert works during the 1950s and 60s that focus on expressing the human condition and more specifically, the black experience in America. He was, "Among the first black men to break the racial barrier by means of modern dance,".[1]
Donald's talents extend beyond the concert stage as McKayle has also performed and choreographed for Broadway musicals, theatre, television, and film.[2] He has worked with many choreographers such as Martha Graham, Alvin Ailey, Anna Sokolow, and Merce Cunningham. A Tony Award and Emmy Award nominee, McKayle is currently a Professor of Dance, Modern Technique and Choreography, at UC Irvine, in the Claire Trevor School of the Arts Dance Department. He has served on the faculties of Connecticut College, Sarah Lawrence College, and Bennington College.
References
Edit
↑ Nancy Reynolds and Malcolm McCormick, No Fixed Points: Dance in the Twentieth Century (New Haven, CT: Yale University Press, 2003), 345.
↑

Melanye P. White-Dixon, "McKayle, Donald," in International Encyclopedia of Dance, vol. 4, ed. Selma Jeanne Cohen (New York: Oxford University Press 1998), 345. ed
External links
Edit
Ad blocker interference detected!
Wikia is a free-to-use site that makes money from advertising. We have a modified experience for viewers using ad blockers

Wikia is not accessible if you've made further modifications. Remove the custom ad blocker rule(s) and the page will load as expected.