Dr. Casey in the episode "Florida's Favorite Passenger" in Season 6.
Personal Information
Gender:
Male
Occupation/
Career:
Physicial
Character
description:
Treats Larry Baker, a passenger on Florida's school bus for his hearing loss by performing laser surgery on him which corrects the problem
Spouse(s):
Wife, name not mentioned
Related to:
Mother-in-law, mentioned
Character information
Appeared on:
Good Times
Episodes appeared in:
"Florida's Favorite Passenge: Part 2" (Season 6)
Character played by:
Paul Savior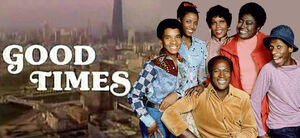 Dr. Harvey Casey, a physician, appears in the Season 6 episode of Good Times titled "Florida's Favorite Passenger: Part 2". The part of Dr. Casey is played by Paul Savior.
About the doctor
Edit
When Florida takes interest in a kid named Larry Baker, who rides on the school bus she drives after he got into a fight with another kid, she invites him to stay and have supper; her concerns about him are substansiated when, after she accidentally drops and shatters a dish which she got of the kitchen cabinet and everyboy hears it execpt for him, she begins to suspect that he has a hearing problem.
After a battle with Mrs. Baker (Larry's mother) over Larry's condition, which she finds out about the scope of his hearing loss after Keith rescued him from falling 17 stories down the shaft of the elevator which Bookman had out of service for maintennance, where he told his mom and Florida he had try to make out what they were yelling to him, Florida, with her permission, winds up taking Larry to take him to a nearby hospital. When Dr. Casey introduces himself, Bookman, who tagged alone with Florida and Willona, asks "You mean, as Ben?". referring to the 1960's TV series, as he replies "No, like in Harvey!". his first name.

When Florida, who asks him about Larry's condition, as to if ti was serious, Dr. Casey replies that anytime anyone is subjected to hearing loss, it's serious, and that so much of it is preventabele, as he also says "When I see something happen to this to someone like a sweet little kid like Larry, I have to take my own blood pressure!" When Willona asks, referring to Larry's condition, "Well, is it that bad?" he, thinking she was referring to his blood pressure, replies "146/88, but if I eliminate salt from my diet...?!"
When Dr. Casey asks ask around to see if any one of Larry's parents were present, he finally, after asking Florida, then Willona if they were Larry's parent, he winds up asking Bookman "Are you the parent?" Bookman responds, "Ay, do I look like I've had babies?", as Dr. casey sarcastically responds "No, but it won't be long now!? When the nurse at the reception desk tells Dr. casey that his mother-in-law called, saying that she threw her back out, he responds "Now, that's a start, now if I could throw the rest of her out!"
Dr. Casey described to Florida that Larry suffered from Stapedial Otosclerosis, a hearing impairment condition which could have gotten progressively worse, but was treated by a Dr. Casey (Paul Savior), who suggested Larry going through a quick easy corrective surgical precudere which he eventually replaced a diseased bone in his ear with an articical (cochlear) implant.
Ad blocker interference detected!
Wikia is a free-to-use site that makes money from advertising. We have a modified experience for viewers using ad blockers

Wikia is not accessible if you've made further modifications. Remove the custom ad blocker rule(s) and the page will load as expected.