Dr. Kelly, as played by actress Paula Kelly in "Where Have All the Doctors Gone?" in Season 6.
Personal Information
Gender:
Female
Occupation/
Career:
Physician, Free Clinic, Southside Chicago, IL
Character
description:
Reconsiders, with help from Florida, accepting a better job offer at a big hospital, and stays at the free clinic after showing frustration from working in her inner city ghetto digs when a Flu epidemic arises, where she has to take extra care of treating Penny, who gets gravely ill after her first clinic visit
Character information
Appeared on:
Good Times
Episodes appeared in:
"Where Have All the Doctors Gone?" (Season 6)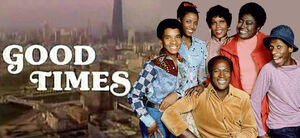 Dr, Kelly, the phyiscian at the community clinic to whom Florida and Willona took Penny to get treated and also, whom is fed up with the ghetto surroundings and substandard clinical conditions in which she has to work around and who desires to work in a more comfortable setting in "Where Have All the Doctors Gone?" in Season 6 og Good Times. The part of Dr. Kelly is played in the episode by actress/dancer/singer Paula Kelly. 
About Dr. Kelly
Edit
When Florida is forced to rush Penny to the local community free clinic when Penny shows signs of suffering from the flu, Florida is shocked to learn that the only doctor on duty, Dr. Kelly, who was a product of the ghetto herself, is fed up with her shabby inner-city surroundings and is preparing to leave for a better-paying job at a big hospital in a more affluent neighborhood.
When Dr. Kelly chides the residents of the South Side community, which she too grew up in, about their personal and dietary care habits, referring to them, black people in the community, as "you people", Florida, who is both flabbergasted and in disbelief of what she's hearing, reminds her of her ethinic background, asks her "what do you mean, you people?" and if she had "looked in the mirror lately", as she forces the doctor, who is both frustrated with the both the ghetto enviornment which she has to work in and the limited resources with which she works by working in an inner-city clinic, to look at herself and place her personal career choices as to where she would rather be employed on the backburner for the needs of the community.
Desperately, Florida tries to persuade the departing doc to stick around long enough to avert what threatens to become a flu epidemic, as Dr. Kelly, after having to, at the prodding of Florida, to treat Penny again, this time having to make a "house call" to the Evans' apartment when Penny is bedridden with a dangerously high fever, decides to continue working at the clinic, utting the community's needs for a good physician ahead of her career choices.
Ad blocker interference detected!
Wikia is a free-to-use site that makes money from advertising. We have a modified experience for viewers using ad blockers

Wikia is not accessible if you've made further modifications. Remove the custom ad blocker rule(s) and the page will load as expected.