Eric Monte co-created Good Times with Mike Evans, of The Jeffersons TV series fame.

Personal Information
Birthname:
Kenneth Williams
Ethnicity
African-American
Birthplace:
Chicago, Illinois, U.S.
Career information
Occupation/
Career:
Screenwriter / Producer
Known for:
Good Times
What's Happening!!
Cooley High
Series involved with:
Good Times
Job on series
Co-creator of Good Times with Mike Evans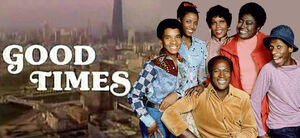 Eric Monte (born Kenneth Williams; December 25, 1943) is a screenwriter who has written for and created notable shows depicting 1970s African-American culture.[1]
Early life and career
Edit
Born in Chicago, and raised in the Cabrini–Green housing project, Monte dropped out of high school and hitchhiked to Hollywood. His first big break came five years later with a script written for and accepted by All In The Family. From there, he went on to produce work responsible for two 1970s sitcoms: Good Times (which he co-created with The Jeffersons star Mike Evans) and What's Happening!! which was based on his screenplay for the motion picture Cooley High.[2]
According to the Los Angeles Times, in 1977 he filed a lawsuit accusing ABC-TV, CBS-TV, producers Norman Lear and Bud Yorkin and others of stealing his ideas for Good Times, The Jeffersons (an All in the Family spinoff) and What's Happening!! Eventually, he says, he received a $1-million settlement and a small percentage of the residuals from Good Times, but the industry retaliated against him denying him the opportunity to pitch new scripts.[3] Since Good Times ended, the only scripts he's written that have been produced by Hollywood are a single episode of The Wayans Bros. and a single episode of Moesha, the latter of which Monte has called "the absolute worst script I've ever written."[4]
Monte used the bulk of the settlement money to finance the production of a play he had written titled If They Come Back. The play proved to be a commercial failure, leading to Monte's financial ruin.
After falling on hard times, he declared bankruptcy and, by 2006, found himself living in a Salvation Army homeless shelter in Bell, CA. He appeared to be maintaining sobriety there, as the shelter required regular drug tests, and he was actively pursuing further attempts to sell television and film scripts, as well as a self-published book called Blueprint for Peace. Late in 2006, Monte moved back to Chicago.[5]
References
Edit
External links
Edit
Ad blocker interference detected!
Wikia is a free-to-use site that makes money from advertising. We have a modified experience for viewers using ad blockers

Wikia is not accessible if you've made further modifications. Remove the custom ad blocker rule(s) and the page will load as expected.