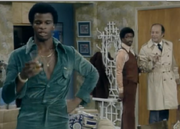 Ernie and Leon meet up with J.J. in the unemployment office in "J.J.'s New Career: Part 1" in Season 4.
Personal Information
Gender:
Both male
Occupation/
Career:
Bookies/Drug Dealers
Character
description:
Former high school classmates of J.J. who run into him at the unemployment office, who offer him a job as an illegal bookie, as he then moves in with them into their fancy condo when Florida kicks him out
Character information
Appeared on:
Good Times
Episodes appeared in:
"J.J.'s New Career: Part 1 and "J.J.'s New Career: Part 2" (Season 4)
Character played by:
Grand L. Bush as Leon
Andre Edwards as Ernie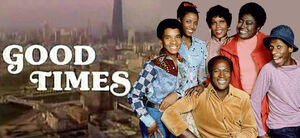 Ernie and Leon, two former high school accquaintances whom J.J. moves in with that are bookies, whom he later finds out are also into selling drugs and prostitution, appear in the Season 4 episodes of Good Times titled "J.J.'s New Career: Part 1" and "J.J.'s New Career: Part 2". The part of Ernie is played by Andre Edwards, while the part of Leon is played by Grand L. Bush.
About Ernie and Leon
Edit
With J.J., out of work again, with the family facing eviction, he runs into Ernie and Leon, two former high school classmates turned bookies (its later revealed that they also have recently gone into drugs and prostitution too) in the unemployment office, as they offer him a job as a bookie as he later moves in with them in their posh apartment, when Florida, disapproving of his "new career", throws him out.
When they throw a big party with some girls when Ernie gets a tip from Fred, a Chicago Police detective who looks the other way of their criminal rackets in exchange for "tribute", that there was going to be a drug bust. At this time, the two finally reveal to an unknowing J.J. that they are also into selling dope and prostitution, as they get him to get rid of .45 caliber snubnose gun, but not the way that he did, as he threw it out the glass window on the patio, shattering the glass! When they get him to also get rid of the bags of cocaine that they had by dumping it down the kitchen sink trash disposal, the cops arrive, as Leon gets shot in the arm in the ordeal; when the two detectives in the raid search for any drugs, they happen to miss the frightened J.J. hiding in the broom closet!
Frightened by his "near death" ordeal, J.J. comes to his senses and changes his mind about making money as a booking with his former high school classmates, as he calls Florida and says "I wanna come home", as she welcomes him back with open arms.
Ad blocker interference detected!
Wikia is a free-to-use site that makes money from advertising. We have a modified experience for viewers using ad blockers

Wikia is not accessible if you've made further modifications. Remove the custom ad blocker rule(s) and the page will load as expected.