F. William Parker as a court judge in a 2009 episode of ABC-TV's "Criminal Minds" series. He appears as a Chicago police detective in the Season 4 episode of "Good Times" titled "J.J's New Career: Part 2".
Personal Information
Gender:
Male
Career/Family Information
Occupation/
Career:
Actor
Years active:
1972-present
Character information
Appeared on:
Good Times
Character played:
police detective in "J.J.'s New Career: Part 2" (Season 4)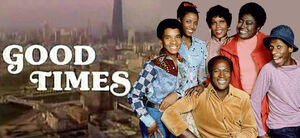 F. William Parker is an American character actor who appeared on Good Times as one of two police detectives who participated in a drug bust of the condo of Ernie and Leon, two former high school mates of J.J., who happen to be into drug dealing, as well as gambling and prostitution in the Season 4 episode "J.J.'s New Career: Part 2".
Parker has appeared in the following television series: The West Wing (as Rev. Al Caldwell), NYPD Blue, The X-Files, Married... with Children, Seinfeld, Murphy Brown, Wings, Newhart, Alice, General Hospital, Dynasty, Taxi, Barney Miller, Archie Bunker's Place, CHiPs, The Jeffersons, Laverne & Shirley, Happy Days, Little House on the Prairie, The Love Boat, The Bob Newhart Show, The Golden Girls, The Waltons and Criminal Minds.
Filmography
Edit
External links
Edit
Ad blocker interference detected!
Wikia is a free-to-use site that makes money from advertising. We have a modified experience for viewers using ad blockers

Wikia is not accessible if you've made further modifications. Remove the custom ad blocker rule(s) and the page will load as expected.