Don Marshall as Agent Lloyd
Personal Information
Gender:
Male
Occupation/
Career:
FBI Agent
Character
description:
Sent to investigate the correspondence of someone in the family with the Cuban government, which happens to be Michael, who sent for some propaganda leaflets as part of a school class project
Character information
Appeared on:
Good Times
Episodes appeared in:
"The Investigation" in Season 3
Character played by:
Don Marshall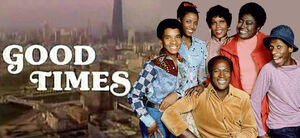 FBI Agent Lloyd is a character who appears in the Season  3 episode of Good Times titled "The Investigation". The part of Agent Lloyd is played in the episode by Don Marshall.
About Agent Lloyd
Edit
In his appearance in "The Investigation", Agent Lloyd is sent by the FBI to investigate the Evans family in order to find out who among the family had been corresponding with the Cuban government. When it's found out by the family that the possible "revolutionary" who was threatening to "overthrow the government" was none other than Michael, who sent for leaflets as part of a class project at school, they also find out that although Agent Lloyd had already found that out when he visited the Evans's apartment, that the FBI still sent him as a precautionary measure to ensure that there were no subversives that were indeed conspiring against the U.S. government.
When James, who, like J.J. had lost his job as a result of FBI agents snooping around his place of work, he responds, upon learning that Lloyd had talked to his boss, and that he got his job back, he responded "Well, that's good, I got my job back, but what about the others, who aren't so lucky ?!?"
As Agent Lloyd leaves, J.J., who had lost his job at the chicken shack, asked "What about me, I lost my job, too!?", Agent Lloyd says "Well, I'm afraid I can't do anything about that...we didn't even talk to your boss!"
Ad blocker interference detected!
Wikia is a free-to-use site that makes money from advertising. We have a modified experience for viewers using ad blockers

Wikia is not accessible if you've made further modifications. Remove the custom ad blocker rule(s) and the page will load as expected.