FBI Agents Monroe and Reardon


Agents Monroe (left) and Reardon in the episode "Cousin Cleatus" in Season 3.
Personal Information
Gender:
Both Male
Character
description:
Arrives at the Evans' apartment looking for Cleatus Jackson. Florida's radical militant nephew, who showed up after robbing a bank in Atlanta; returns to the apartment just in time to nab Cleatus after looking out for the taxicab they had to call for after the tires were stolen off of their car
Character information
Appeared on:
Good Times
Episodes appeared in:
"Cousin Cleatus" (Season 3)
Character played by:
Beeson Carroll & Laurence Haddon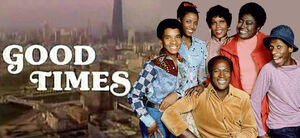 FBI Agents Monroe & Reardon appear in the Season 3 episode of Good Times titled "Cousin Cleatus". The part of Agent Reardon is played by Beeson Carroll, while the other agent, Monroe, is played by Laurence Haddon.
About the FBI agents
Edit
The Evans' get a visit from FBI Agents Monroe and Reardon asking about Florida's nephew, Cleatus Jackson. Turns out he is wanted for bank robbery in Atlanta. When Cleatus makes the mistake of trying to use Michael hostage as ransom for a possible getaway by holding him at gunpoint, James is able to trap him by getting the lights to go out by turning on the TV, which had kept knocking out the fuse, retrieving Cleatus gun in the process. Shortly after the agents arrive at the Evans' apartment, whose tires on their car had been stolen!
Forced to try to call for a taxicab, the agents left the apartment to wait for the cab to arrive; not realizing that very few taxi drivers are willing, if not courageous enough, to try to venture into that part of Chicago, even in broad daylight! Finally, after several hours of waiting, they return to the Evans' apartment, just in time to take Cleatus into custody, as presumably, they were able to finally get transportation by calling their FBI headquarters; their now tireless car presumably was towed to FBI Headquarters along with them!
Ad blocker interference detected!
Wikia is a free-to-use site that makes money from advertising. We have a modified experience for viewers using ad blockers

Wikia is not accessible if you've made further modifications. Remove the custom ad blocker rule(s) and the page will load as expected.