Corrupt Chicago cop Fred (Alan Manson), getting another contribution to his "Police Benevolence Fund" from Ernie (Andre Edwards, right) in Part 2 of "J.J.'s New Career" in season 4.
Personal Information
Gender:
Male
Occupation/
Career:
Detective, Chicago Police
Character
description:
Gets paid tribute by Leon and Ernie too look the other way of their criminal operations, which include drugs and prostitutes in addition the gambling operation which J.J. only knows about
Character information
Appeared on:
Good Times
Episodes appeared in:
"J.J.'s New Career: Part 2" (Season 4)
Character played by:
Alan Manson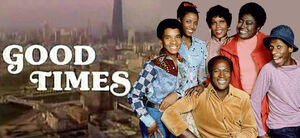 Fred, a corrupt police detective, appears in the Season 4 episode of Good Times titled "J.J.'s New Career: Part 2". The part of Fred is played in the episode by veteran actor Alan Manson.
About Fred
Edit
With J.J., out of work again, with the family facing eviction, he runs into Ernie and Leon, two former high school classmates turned bookies (it's later revealed that they also have recently gone into drugs and prostitution too) in the unemployment office, as they offer him a job as a bookie as he later moves in with them in their posh apartment, when Florida, disapproving of his "new career", throws him out.
When Fred, who works in concert with Ernie and Leon as a sort of "lookout", in that he alerts the two, who are heavy into bookmaking, as well as drugs and prostitution, when the police are back on their trail; in return, he gets "his cut". which means, he gets paid his tribute, in looking past their criminal endeavors.
When Fred, whom J.J., doesn't know about him, presents himself as a detective who's trying to bust Leon and Ernie, claims to have seen his face before, as he draws his revolver on him, as if he was about to bust him, he starts accusing him of taking part in "Brother Jones's floating crap game", "The armored car job in '63!" When he grills him with "Where were you the night they broke into Watergate?", Leon and Ernig, peeking out from the front door, starts laughing, before they let J.J. know that it was a practical joke, that Fred is in "their back pocket!"
After they pay Fred his tribute, which he says is part of his "Police Benevolence Fund", he says "Hey, this bread was OK when you were just into gambling, but now you're into chicks and dope, too!" as they give him a litte more cash which makes him say "I feel more benevolent already!". He then asks Leon and Ernie if J.J. "knows about the heavy stuff", as he doesn't know at that point that they are also into drugs and prostitution, Leon tells him "he just thinks we're into gambling!" as he responds "Just don't let him sniff too close!" before he leaves their apartment.
When they throw a big party with some girls when Ernie gets a tip from Fred, a Chicago Police detective who looks the other way of their criminal rackets in exchange for "tribute", that there was going to be a drug bust.
Ad blocker interference detected!
Wikia is a free-to-use site that makes money from advertising. We have a modified experience for viewers using ad blockers

Wikia is not accessible if you've made further modifications. Remove the custom ad blocker rule(s) and the page will load as expected.