Fred D. Scott
Personal Information
Gender:
Male
Born:
August 31, 1918
Birthplace:
Ithaca, New York, U.S.
Died
July 12, 2002
(aged 83)
Deathplace:
Los Angeles, California, U.S.
Career/Family Information
Occupation/
Career:
Actor
Years active:
1950's-2000
Character information
Appeared on:
Good Times
Character played:
Warren Coggins in "Florida's Protest" in Season 3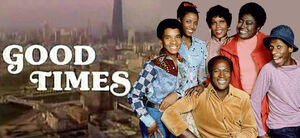 Fred D. Scott (born August 31 1918 - died July 12, 2002) was an African American actor who appeared as Warren Coggins, a friend of the Evanses in the Season 3 episode of Good Times titled "Florida's Protest".
Life and career
Edit
A graduate of Ithaca College and Dillard College, Fred studied voice culture and performing arts. As a surgical technician for the U.S. Army in World War II, he was decorated for service in the South Pacific. He contracted tuberculoses during the war and was unable to continue plans to become an opera singer. Fred then studied theatre at San Jose State College and began appearing in plays in and around San Francisco. He then relocated to Hollywood in the early 1970s, and spent the next three decades appearing in commercials, television programs and films.
Later years/Daath
Edit
Settling in the Woodland Hills section of Los Angeles, Fred died there in 2002 at the age of 83.
External links
Edit
Ad blocker interference detected!
Wikia is a free-to-use site that makes money from advertising. We have a modified experience for viewers using ad blockers

Wikia is not accessible if you've made further modifications. Remove the custom ad blocker rule(s) and the page will load as expected.