Gary Veney made a guest appearance as shy comic hopeful Tyrone in the Season 4 episode "The Comedian and the Loan Sharks".
Personal Information
Gender:
Male
Born:
1952
Birthplace:
Chester, PA, U.S.
Career/Family Information
Occupation/
Career:
Actor/Comedian, Singer
Years active:
1977-1988
Character information
Appeared on:
Good Times
Character played:
Tyrone Tyler in "The Comedian and the Loan Sharks" (Season 3)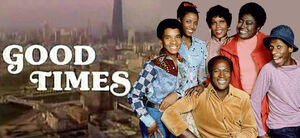 Gary Veney appeared on Good Times as Tyrone Tyler, a shy, timid, talentless comic which J.J. backs in the Season 4 episode titled "The Comedian and the Loan Sharks". Gary also has appeared in the 1980 made for TV movie The Night the City Screamed, and the big screen films Mortuary Academy (1988), Act of Violence (1979) and Gus Brown and Midnight Brewster (1985).
Gary also appeared on Stevie Wonder's "Songs in the Key of Life" album (1976) on the song, "Black Man" as one of the teachers asking historical questions.
External links
Edit
Ad blocker interference detected!
Wikia is a free-to-use site that makes money from advertising. We have a modified experience for viewers using ad blockers

Wikia is not accessible if you've made further modifications. Remove the custom ad blocker rule(s) and the page will load as expected.