Personal Information
Gender:
Male
Born:
September 6, 1930
Birthplace:
Normal, Illinois, U.S.
Died
April 13, 2000
(aged 69)
Career information
Occupation/
Career:
screenwriter
Years active:
1960-1990
Series involved with:
Good Times
Job on series
Writer "House Hunting" (Season 6)
Writer (teleplay) "Michael's Decision" (Seasons 6)
Story editor 8 episodes (Season 6)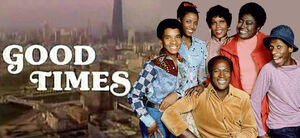 Gene Farmer (born September 6, 1930-died April 13, 2000) wrote the episode titled "House Hunting" in Season 5; he also was the story editor for 8 episodes that seasons, which included the episode "Michael's Decision", for which he also penned the teleplay. Gene wrote or produced episodes or served as a story consutant for many TV seriesduring the 1970's such as Sanford and Son, Sanford Arms, Whats Happening!!, CPO Sharkey, Chico and The Man, and That's My Mama. Gene got his start on network TV working as a writer for the popular comedy progams Rowan and Martin's Laugh-In and The Smothers Brothers Comedy Hour in the late 1960s and early 1970s.
External links
Edit
Ad blocker interference detected!
Wikia is a free-to-use site that makes money from advertising. We have a modified experience for viewers using ad blockers

Wikia is not accessible if you've made further modifications. Remove the custom ad blocker rule(s) and the page will load as expected.