George as Chief Bellagio in the 2010 comedy / serial killer-murder spoof film "Dahmer Vs. Gacy."
Personal Information
Gender:
Male
Birthplace:
Winston Salem, NC, U.S.
Career/Family Information
Occupation/
Career:
Actor
Years active:
1970-2010
Character information
Appeared on:
Good Times
Character played:
Goon in "Blood Will Tell" (Season 6)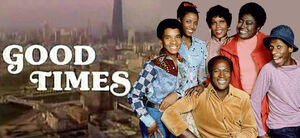 George Reynolds appears as one of Sweet Daddy Williams' thugs in the Season 6 episode of Good Times titled "Blood Will Tell". An imposing character actor, George is known for his numerous guest TV appearances, usually as imposing tough guy types on such shows as Good Times, Sanford and Son, That's My Mama, Fantasy Island; he also has made guest a appearances on Harry O, Phyllis, Taxi, and St. Elsewhere, as well as memorable appearances in the films Fuzz (1972), Cleopatra Jones (1973), and Smokey and the Bandit (1977). Most recently, George appeared as Police Chief Bellagio, of the fictional California City, CA, in the 2010 serial killer lampoon / black comedy Dahmer vs. Gacy.
External links
Edit
Ad blocker interference detected!
Wikia is a free-to-use site that makes money from advertising. We have a modified experience for viewers using ad blockers

Wikia is not accessible if you've made further modifications. Remove the custom ad blocker rule(s) and the page will load as expected.