Florida and James Evans and their three children live in a rented project apartment, 17C, at 963 N. Gilbert Ave., in a housing project (implicitly the infamous Cabrini–Green projects, shown in the opening and closing credits but never mentioned by name on the show) in a poor, black neighborhood in inner-city Chicago.
To write a new article, just enter the article title in the box below.
Not sure where to start?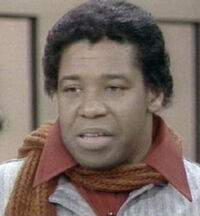 Nathan Bookman (Johnny Brown) - Ever so effectionately referred to as "Booger" or "Buffalo Butt", Nathan Bookman is the housing project's indolent superintendent. The part of Bookman is played on the series by Johnny Brown. First appearing in the episode "The Family Business" in Season Two, Bookman, who started out as a recurring character before becoming a main character in Season 3, appears in a total of 58 episodes throughout the show's run.
Ad blocker interference detected!
Wikia is a free-to-use site that makes money from advertising. We have a modified experience for viewers using ad blockers

Wikia is not accessible if you've made further modifications. Remove the custom ad blocker rule(s) and the page will load as expected.