Gordon Jump in his most famous role as Arthur "Big Guy" Carlson on the CBS-TV series WKRP in Cincinnati.
Personal Information
Birth name:
Alexander Gordon Jump
Born:
April 1, 1932
Birthplace:
Dayton, Ohio, U.S.
Died
September 22, 2003
(aged 71)
Deathplace:
Los Angeles, California, U.S.
Career/Family Information
Occupation/
Career:
Actress
Character information
Appeared on:
Good Times
Character played:
Mr. Rogers in Willona, the Fuzz (Season 5)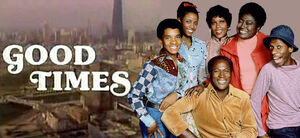 Gordon Jump (born Alexander Gordon Jump on April 1, 1932-died on September 22, 2003) made a guest appearance on Good Times as Mr. Rogers, the head of security in the department store who offers a store detective job to Willona to spy on shoppers in the ladies' clothing department for possible shoplifters, which she reluctantly accepts in the Season 5 episode titled "Willona, the Fuzz".
Gordon was best known for his role as the lonely Maytag repairman in the TV/radio commercial and print ads for the Maytag Corporation, and for his role as Arthur Carlson on WKRP in Cincinnati. (In real life, he was a radio and TV personality.) He also played the incompetent "Chief of Police Tinkler" in the ABC sitcom Soap. [1]
In 1978, he landed his signature role of Arthur "Big Guy" Carlson on the situation comedy WKRP in Cincinnati, portraying a bumbling radio station manager whose main qualification for the job is being the son of the station's owner. 
After WKRP in Cincinnati was cancelled in 1982, Jump made an appearance on a 1983 two-part episode of Diff'rent Strokes, cast as Mr. Horton, the owner of a bicycle shop who attempts to sexually molest Arnold Jackson and his friend, Dudley Ramsey. He later hosted the PBS series Make Yourself at Home, taught voice classes, and made frequent appearances on the hit ABC television series Growing Pains playing Joanna Kerns'  father. Jump also enjoyed working in theater.
In 1989, Jump took over the Maytag repairman role from Jesse White. In the 1990s, Jump starred in a short-lived revival of WKRP in Cincinnati entitled The New WKRP in Cincinnati. He also appeared in the ninth and final season of Seinfeld, where he played George Costanza's boss at a playground equipment company over two episodes. Jump's last movie role was in the 2004 film Changing of the Guard, released after his death.
Gordon worked with future Seinfeld TV series director Andy Ackerman during his time on WKRP. Gordon passed away in Los Angeles on September 22, 2003, as a result of pulmonary fibrosis and respiratory failure.
References
Edit
External links
Edit