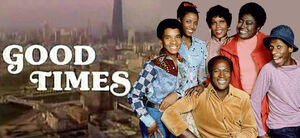 Grand Lee Bush (born December 24, 1955) played the part of Leon, one of two former high school classmates of J.J. who gets him into becoming a bookie for them, as he later moves into their swanky condo before he realizes that they, along with their gambling operation, are also into dealing dope and prostitution in the Season 4 episodes of Good Times titled "J.J.'s New Career: Part 1" and "J.J.'s New Career: Part 2".
Grand also has appeared in such hit films as Colors, Lethal Weapon, Lethal Weapon 2, Licence to Kill, The Exorcist III, Freejack, Demoliton Man and Street Fighter (as Balrog). He also appeared in TV shows, such as "Airwolf", "Murder, She Wrote", "Nash Bridges", "The Pretender", "Walker, Texas Ranger", "Chicago Hope" and "JAG".
External Links
Edit
Ad blocker interference detected!
Wikia is a free-to-use site that makes money from advertising. We have a modified experience for viewers using ad blockers

Wikia is not accessible if you've made further modifications. Remove the custom ad blocker rule(s) and the page will load as expected.