Veteran character actress Helen Martin, of "227" TV series fame, appeared as Wanda, a neighbor and friend of the EVanses and Willona on "Good Times".
Personal Information
Gender:
Female
Born:
July 23, 1909
Birthplace:
St. Louis, Missouri, U.S.
Died
March 25, 2000
(aged 90)
Deathplace:
Monterey, California, U.S.
Career/Family Information
Occupation/
Career:
Stage/Film/TV actress
Years active:
1941-2000, her death
Character information
Appeared on:
Good Times
Character played:
Wanda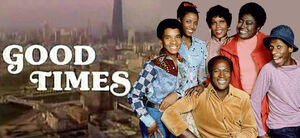 Helen Dorothy Martin (July 23, 1909 – March 25, 2000) Wanda, an elderly fellow tenant and friend of the Evans family and Willona who lived in the South Side Chicago tenement building where they also resided on the CBS-TV sitcom series Good Times. A revered veteran actress of Broadway theatre and television of nearly seven decades, who perhaps most well known for her role in the NBC-TV sitcom series 227 (1985-1990) as Marla Gibbs' neighbor Pearl Shay.
Early life and education
Edit
Born in St. Louis, Missouri, the daughter of Amanda Frankie (née Fox) and William Martin, a minister,[1] young Helen attended public schools, which at the time were racially segregated.
After moving to New York to pursue a career in acting in the late 1930's, Helen soon found work as chiefly a Broadway theatre character actress, by which she make a name for herself for many decades, debuting in Orson Welles' production of Native Son in 1941. She appeared in at least a dozen Broadway shows, including Jean Genet's The Blacks, the musical Raisin from 1973 to 1975, Ossie Davis' Purlie Victorious (and later the musical version, which was called Purlie), The Amen Corner and Tennessee Williams' Period of Adjustment. She was an original member of the American Negro Theater.
Martin became widely known later in life due to her roles in popular television series, which brought her a large audience. She had a guest role as Wanda on the television series Good Times, and later as the wisecracking neighbor Pearl Shay on the television sitcom 227, which lasted from 1985-1990. She also played on the short-run sitcoms Baby, I'm Back (as mother in-law, Luzelle) and That's My Mama.
She played a variety of grandmothers in films: Hollywood Shuffle (1987), Don't Be a Menace to South Central While Drinking Your Juice in the Hood (1996), I Got the Hook Up (1998), and Mama Doll in Bulworth (1998).
Helen died of a heart attack on March 25, 2000.
External links
Edit
References
Edit
Ad blocker interference detected!
Wikia is a free-to-use site that makes money from advertising. We have a modified experience for viewers using ad blockers

Wikia is not accessible if you've made further modifications. Remove the custom ad blocker rule(s) and the page will load as expected.