Herbert Kenwith directed 57 episodes of "Good Times".

Personal Information
Born:
July 14, 1917
Birthplace:
New Jersey, U.S.
Deathplace:
Los Angeles, California, U.S.
Career information
Occupation/
Career:
Television and film Screenwriter, Director, and Producer
Years active:
1953-1997
Series involved with:
Good Times
Job on series
directed 57 episodes in Seasons 1-3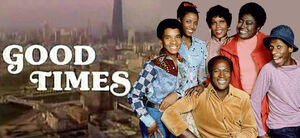 Herbert Kenwith (July 14, 1917 – January 30, 2008), sometimes credited as Herb Kenwith, was a television writer, director and producer. He directed a total of 57 episodes of Good Times from Seasons 1-3, beginning with the episode "Michael Gets Suspended", with his last episode being the Season 3 finale "The Rent Party", which was also the final episode which cast member John Amos appeared in as James Evans Sr..
He also directed for such popular television shows as: Nine to Five (1986), Gimme a Break!, Private Benjamin, Bosom Buddies, Diff'rent Strokes, Me and Maxx, Good Times, Mary Tyler Moore, Love, American Style and Star Trek. He directed the first episode of The CBS soap opera The Young And The Restless in 1973.
Herber also worked as a theater director, having directed many plays for the summerstock program at Princeton University.
In the early morning of January 30, 2008, Herbert died at his home in Century City, Los Angeles, CA. He celebrated his 90th birthday on July 14, 2007.
External links
Edit

Stub templates just show off a wiki's flaws. Instead of using a stub template, make the page better!
Ad blocker interference detected!
Wikia is a free-to-use site that makes money from advertising. We have a modified experience for viewers using ad blockers

Wikia is not accessible if you've made further modifications. Remove the custom ad blocker rule(s) and the page will load as expected.