Howard Morton
Personal Information
Birth name:
Howard Leroy Morton
Born:
May 15, 1925
Birthplace:
New York, New York
Died
May 11, 1997
(aged 71)
Deathplace:
Los Angeles, California, U.S.
Career/Family Information
Occupation/
Career:
Actor/Voice over artist
Years active:
1959–1991
Character information
Appeared on:
Good Times
Character played:
Jim Crebbins, Cindy's dad in "Michael's Decision" (Season 6)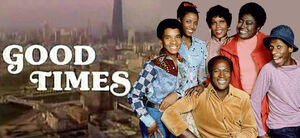 Howard Leroy Morton (May 15, 1925 - May 11, 1997) guest starred on Good Times as Jim Crebbins, the father of Cindy Crebbins, a college classmate of Michael who puts out an bulletin board ad for a roommate to share expenses in her of campus apartment, which Michael answers in "Michael's Decision" in Season 6.
A tall man with comedic talent, Morton appeared as Dolph Sweet's doltish police subordinate on Gimme a Break! for five seasons (1981–86) and appeared in many other TV shows and films. He frequently played supporting roles on sitcoms including All in the Family, The Jeffersons, I Dream of Jeannie, Good Times, and Mary Hartman, Mary Hartman. He also played Grandpa in The Munsters Today from 1988 to 1991. Morton made a number of appearances on game shows, including Super Password and Pyramid. He made his feature film debut in The Mechanic (1972) and appeared on stage in productions of Auntie Mame, Morning's at Seven and Fancy Meeting You Again.
Born in New York City, Morton moved to Hollywood in 1960 to pursue his acting career. He died of complications of stroke in 1997 at Providence Saint Joseph Medical Center in Burbank. A memorial service was held at the North Hollywood Church of Religious Science. [1]
References
Edit
External links
Edit
Ad blocker interference detected!
Wikia is a free-to-use site that makes money from advertising. We have a modified experience for viewers using ad blockers

Wikia is not accessible if you've made further modifications. Remove the custom ad blocker rule(s) and the page will load as expected.