Jack Elinson

Personal Information
Gender:
Male
Born:
April 21, 1922
Birthplace:
New York City, NY, U.S.
Died
November 21, 2011
(aged 89)
Deathplace:
Sawnta Monica, CA, U.S.
Career information
Occupation/
Career:
TV Series Screenwriter / Producer
Years active:
1952-1990
Series involved with:
Good Times
Job on series
producer, 24 episodes, Seasons 2 and 3
writer, 19 episodes total in Seasons 1-3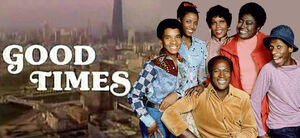 Jack Elinson (April 21, 1922 - November 17, 2011) was involved in the writing of a total of nineteen episodes of Good Times from Seasons 1 to 3, beginning with the Season 1 episode titled "Sex and the Evans Family"; he actually wrote the script for eight episodes along with creative partner Norman Paul (with whom he often collaborated), and was involved in the development of the teleplay for 11. He also co-produced a total of 24 episodes, beginning with the Season 2 episode "The Family Gun", often along with Paul and Alan Mannings.
Amongst his most notable work, he also co-wrote 34 episodes of The Andy Griffith Show (mostly in collaboration with Charles Stewart) and 16 episodes of Gomer Pyle U.S.M.C. He also wrote 25 episodes of the TV series "The Real McCoys", "Make Room for Daddy" (for which he received an Emmy nomination in 1961), "Hogan's Heroes", "The Doris Day Show" (for which he wrote 28 episodes), One Day at a Time, and later, in the 1980's NBC-TV's The Facts of Life" (for which he served as executive producer) and 227 series. His brother is writer Iz Elinson.
Jack often served as an executive producer or producer on many of the hit shows for which he wrote.
Elinson provided jokes for Walter Winchell's newspaper column and wrote for radio before entering the new medium of television in the early 1950s, when he worked on such shows as The Colgate Comedy Hour, The Jimmy Durante Show and The Johnny Carson Show.
Elinson was a member of the WGA West since 1948 and served on several guild committees.
Personal life and death
Edit
Elinson died of natural causes at his home in Santa Monica in 2011 at the age of 89. [1]
He was survived by his hildren Michael, David, Robbie and Ethel; his second wife, Estelle, and her children Marcy, Claudia and Valerie; and 12 grandchildren.
References
Edit
External links
Edit
Ad blocker interference detected!
Wikia is a free-to-use site that makes money from advertising. We have a modified experience for viewers using ad blockers

Wikia is not accessible if you've made further modifications. Remove the custom ad blocker rule(s) and the page will load as expected.