James Spinks as a technician in "Damien: The Omen 2" in 1980.
Personal Information
Nationality
American
Birth name:
James A. Spinks
Born:
1941
Birthplace:
Chicago, Illinois, U.S.
Died
July 28, 1996 (age 55)
Deathplace:
Chicago, Illinois, U.S.
Career/Family Information
Occupation/
Career:
Actor
Years active:
1970–1995
Character information
Appeared on:
Good Times
Character played:
Goon in "The Comedian and the Loan Sharks" in Season 4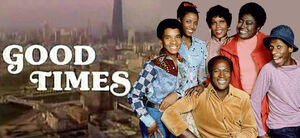 James "Jimmy" Spinks (born 1941 - died July 28, 1996) [1]appeared as one of two goons for a local loan shark which J.J. borrowed some money from to back a comic who got cold feet before opening at a local area nightclub in the Season 4 episode titled "The Comedian and the Loan Sharks".
Life and Career
Edit
James was best known for being in the film Carwash, which starred Richard Pryor and won an award for best music at the 1976 Cannes Film Festival. Mr. Spinks also played parts in Bullett, and made-for-TV films such as One in a Million: The Ron LeFlore Story in 1979. He also helped cast movies such as "Native Son" and "The Color Purple."
Spinks majored in theater at Kennedy-King College. He also sang in Chicago blues clubs and taught nightclub management and dramatics at Columbia College in Chicago, and drama at the Chicago Park District. He also performed comedy at the Second City theater.
Spinks died from complications of a stroke in Chicago, at Northwestern Memorial Hospital. He was survived by his wife, Carol; a son, James; his mother; a sister, and a granddaughter.
References
Edit
External links
Edit
Ad blocker interference detected!
Wikia is a free-to-use site that makes money from advertising. We have a modified experience for viewers using ad blockers

Wikia is not accessible if you've made further modifications. Remove the custom ad blocker rule(s) and the page will load as expected.