Jim and Julie Crebbins
Personal Information
Gender:
Male and Female
Occupation/
Career:
Businessman (Jim) Housewife (Julie)
Character
description:
Visits the Evans' apartment with Cindy after she placed an ad on the campus bulletin board for a new roommate, which Michael, looking to get more space, answered
Related to:
Cindy Crebbins (daughter)
Character information
Appeared on:
Good Times
Episodes appeared in:
"Michael's Decision" (Season 6)
Character played by:
DeAnn Mears & Howard Morton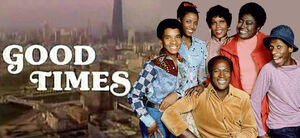 Jim and Juile Crebbins, are the parents of Cindy Crebbins. a college classmate of Michael's, appears in the Season 6 episode of Good Times titled "Michael's Decision". The part of the Crebbins is played in the episode by DeAnn Mears and Howard Morton.
About Michael and Cindy
Edit
When Michael, fed up with the overcrowded living arrangement, decides that he has to move out of the Evans' apartment, he answers an ad placed by Cindy, who lives in an apartment off campus, and is looking for a roommate to share the expenses.
Wnen the two break the news to Florida, she is not pleased with the prospect of Michael and Cindy living together, as she thinks that they, both being are too young and being of the opposite sex, not to mention that she's white.
Apparently, it was still okay with her parents for her to live on her own, although they were worried about her living alone. The only problem there is that they did not know that the person that answered her ad on the campus bulletin board is black, and lives in the ghetto, which they find out about later, when she brings them by the apartment to meet Michael and the rest of the family.
The two try awkwardly to connect to the Evans's, (namely Jim) trying to use 'ebonics', words such as "what's shakin!", "TCB" (Taking Care of Business, which Julie couldn't get right, saying "TCR"!)
Although they try hard not to offend, they wind up offending Keith; when Jim recognized hun as a former football star, he tries to great him in the ghetto vernacular fashion, saying "Hey baby, lay five over me...this is all the way live! Right on, Brother!", as Keith responds, "I find it rather benile, all the idiomatic jargon", as he then says "I feel that we blacks have progresed far beyond the primitive use of semantics... However, if I may regress?" as he begins tap dancing, before Thelma stops him!
When Florida, who is curious about how the Crebbins feel about their daughter moving in with Michael, they surprisingly. are open to the idea, in that, while they didn't approve of Cindy living alone, they feel that Michael, at least what they say they feel, would be good, in that if an intruder were to break in, he, having lived in the ghetto, "Would know how to handle him!"
Well, as Jim and Julie go to their car to get ready to leave, Cindy and Michael, who saw through their facade of then trying to be liberal towards the idea of the two living together, both decide not to room together, as her parents said that they would be dropping by frequently to check up on them.
Ad blocker interference detected!
Wikia is a free-to-use site that makes money from advertising. We have a modified experience for viewers using ad blockers

Wikia is not accessible if you've made further modifications. Remove the custom ad blocker rule(s) and the page will load as expected.