Jimmy Pearson, played by Stanley Bennett Clay
Personal Information
Gender:
Male
Occupation/
Career:
Local political candidate
Character
description:
Challances Alderman Fred C. Davis in election and loses, although he seemed to have the upper hand in challanging him in a debate over the issues when in the Evans' apartment
Character information
Appeared on:
Good Times
Episodes appeared in:
"The Politicians" in Season 3
Character played by:
Stanley Bennett Clay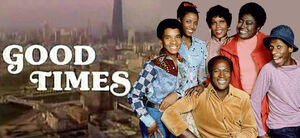 Jimmy Pearson, a young politician who challanges Alderman Fred C. Davis in the upcoming election for his job, appears in the episode "The Politicians" in Season 3 of Good Times. The part of Jimmy is played by Stanley Bennett Clay.
About Jimmy
Edit
In the episode "The Politicians", James, who plans to vote for Alderman Davis in an upcoming election is at odds with Florida, who supports Jimmy, a brash young politician who's running against Alderman Davis in the election, as he again, as always, tries to get the support of the family for the election. While Davis avoids getting into an all out debate with Jimmy, who seems to have the upper hand over Davis concerning the isues at hand, Davis tries resorting to trying to get Pearson into playing the "dozens", as he rhymes, "You are real smart dude, with real smart words you like to strut, but when it comes to politics, you don't know your head from your butt!"
Florida, in defense of Pearson, is more than willing to engage Davis in the dozens, as she counters "You stand there and say, you're a man of the people, but I say, you steal everything, including the church and the steeple!"
In the election, much to the chagrin of Jimmy, Florida and Willona, who also supports his views, he loses soundly in it, as only Florida, Willona and J.J., who was voting for the first time, cast their ballots for him!
James, in trying to console Jimmy, gives him advice, saying that he did'nt grab the people, as he was "too high and mighty to get down" and dirty with Davis, using his refusal to battle him at the dozens in the Evans' apartment as a case in point. In defeat, Jimmy vows to get back at Davis and really fight him in the next election, rhyming "So you tell your man... to watch out, jack...'Cause there is not doubt that I'm gon' be back! I'm gon' leave ya' now without a tear or a sob...but next time I see you, man, I'm gonna have that cat's-a job!"
Ad blocker interference detected!
Wikia is a free-to-use site that makes money from advertising. We have a modified experience for viewers using ad blockers

Wikia is not accessible if you've made further modifications. Remove the custom ad blocker rule(s) and the page will load as expected.