Personal Information
Gender:
Male
Career information
Occupation/
Career:
Screenwriter / Producer
Series involved with:
Good Times
Job on series
Writer - 12 episodes, Seasons 1-4
Teleplay - 6 episodes, Seasons 1-3
Story - 1 episode, Season 3
Story editor - 48 episodes, Seasons 2-4
Production consultant - 15 episodes, Seasons 1 and 2, (all work with Roger Shulman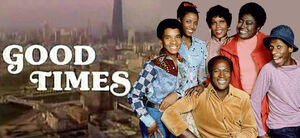 John Baskin wrote twelve episodes of Good Times in Seasons 1 through 4, beginning with "Crosstown Buses Run All Day, Doodah, Doodah" with Roger Shulman, his creative partner, with whom he often worked with; he also co-wrote the teleplay for six more episodes in the first three seasons of the series, and also served as a story editor for 48 of the series 133 episodes in Seasons 2 through four, and still served as a production consultant for 15 more episodes in Seasons 1 and 2. His writing credits include Living Single, Crazy Like a Fox, on which he also served as the series producer, The Jeffersons, Three's Company of which he also produced 22 episodes, Love American Style, and the short-lived 1994 AITF CBS-TV spinoff series 704 Hauser, which would co-star Good Times cast member John Amos.
External links
Edit
Ad blocker interference detected!
Wikia is a free-to-use site that makes money from advertising. We have a modified experience for viewers using ad blockers

Wikia is not accessible if you've made further modifications. Remove the custom ad blocker rule(s) and the page will load as expected.