John Dewey Carter (above) appears as a Chicago police detective in the Season 4 episode of "Good Times" titled "J.J's New Career: Part 2".
Personal Information
Gender:
Male
Also known as:
John Dewey-Carter
Born:
[1]
April 10, 1941
Birthplace:
Memphis, Tennessee, U.S.
Career/Family Information
Occupation/
Career:
Actor
Years active:
1972-present
Character information
Appeared on:
Good Times
Character played:
police detective in "J.J.'s New Career: Part 2" (Season 4)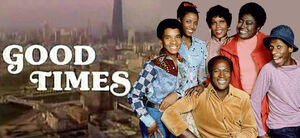 John Dewey-Carter (born April 10, 1941) made a guest appearance on Good Times as one of two police detectives who participated in a drug bust of the condo of Ernie and Leon, two former high school mates of J.J., who happen to be into drug dealing, as well as gambling and prostitution in the Season 4 episode "J.J.'s New Career: Part 2".
Life and career
Edit
Born in Memphis,TN, John's family relocated to Detroit, MI when he was a small child.
In grade school there, young John began performing as a local radio disc jockey, as he also sang in the All-City Glee Club. By high school he was active in sports and in the drama club. After graduating from high school, he attended the Detroit Institute of Technology, where he majored in Speech and Drama. Soon thereafter, in the mid-1960's, he served in the U.S. Army, seeing time in Vietnam, before returning statside to pursue his acting aspirations.
After meeting some actors who worked at the Concept East Theatre, he auditioned for the theatre, which began a period working in theatre in Detroit before moving to Los Angeles to pursue his theatre acting career, before eventually auditioning for and getting roles in TV and films as well. [2]
John has appeared as supporting characters in both film and television during the 1970s and 1980s, including The Incredible Hulk, The Dukes of Hazzard, T.J. Hooker, Buck Rogers in the 25th Century, Hill Street Blues, and ABC-TV's Sister, Sister. John also had a recurring role on the NBC-TV daytime soap opera Another World ("Grant Todd", 1984 - 1985).
References
Edit
↑

ref check via intelius.com
External Links
Edit
Ad blocker interference detected!
Wikia is a free-to-use site that makes money from advertising. We have a modified experience for viewers using ad blockers

Wikia is not accessible if you've made further modifications. Remove the custom ad blocker rule(s) and the page will load as expected.