Juan as hosital orderly in episode of the NBC-TV sitcom "Sanford and Son".
Personal Information
Gender:
Male
Career/Family Information
Occupation/
Career:
Actor
Years active:
1970-1977
Character information
Appeared on:
Good Times
Character played:
Goon in "The Comedian and the Loan Sharks" in Season 4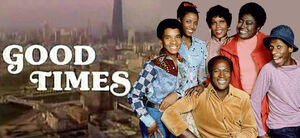 Juan DeCarlos made a guest appearance on Good Times, as one of two goons who work for a local loan shark from which J.J. borrowed some money to back a talentless comic in the episode "The Comedian and the Loan Sharks" in Season 4.
Juan appeared in numerous guest roles on several Norman Lear-produced CBS sitcoms during the 1970's which included, Sanford and Son, All in The Family (1973), Maude (1973), as well as Good Times (1976). His film roles included the Fred Hammer-starred blaxplotation flick Hammer (1972) and Up The Sandbox (1972).
External links
Edit
Ad blocker interference detected!
Wikia is a free-to-use site that makes money from advertising. We have a modified experience for viewers using ad blockers

Wikia is not accessible if you've made further modifications. Remove the custom ad blocker rule(s) and the page will load as expected.