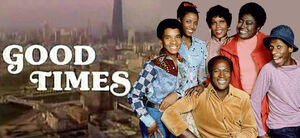 Kathleen Doyle (born November 7, 1947) makes a guest appearance on Good Times as Mrs. Carpenter, a social worker initally assigned to the case of Penny Gordon, whom Willona is trying to adopt in two episodes of the Season 5 four episode story arc titled "The Evans Get Involved: Part 2" and "The Evans Get Involved: Part 3".
A versatile character actress, Kathleen is perhaps best known for her appearances in the films Cannery Row (1982), The Family Man with Nicolas Cage and Tea Leoni (2000), the 2007 Adam Sandler-Kevin James comedy I Now Pronounce You Chuck & Larry, and Body Snatchers with Meg Tilly and Gabrielle Anwar (1993).
Over the course of her Hollywood acting career, Kathleen has also made many guest appearances on numerous TV series, which include Good Times, Welcome Back, Kotter, Eight is Enough, Mary Hartman, Mary Hartman, Archie Bunker's Place, Tales from the Darkside, L.A. Law, and Murphy Brown.
External links
Edit
Ad blocker interference detected!
Wikia is a free-to-use site that makes money from advertising. We have a modified experience for viewers using ad blockers

Wikia is not accessible if you've made further modifications. Remove the custom ad blocker rule(s) and the page will load as expected.